So, when we are talking about RV Trailer camping, means we need to talk more about RV. RV means Recreational Vehicle. It is a towable camping trailer we need for a living while staying in different locations. It is a vehicle that all travelers must have. You can own an RV like a van with a bed.
Other than that, Your RV can be a small pop-up trailer with a functional and comfortable interior that will remind you of the comfort of home. So, your RV should be a car or a truck that you can sleep and even cook in it.
Are You Going To Purchase an RV Trailer?
It is great that you are going to purchase an RV Trailer just to explore the untouched areas in this world for your RV camping. Or perhaps, you want to buy a nice cool RV Trailer just like your friends.
But wait, that is not the matter. The matter is on how you should buy an RV Trailer that meets your needs. Here, you can purchase the right choice by asking yourself these questions:
How often are you going to use this RV Trailer?
What you need most in an RV Trailer?
Do you need something to pull the RV Trailer?
How much you have?
What size of an RV Trailer do you need?
What do you think after test driving your most liked RV Trailer?
How Often Are You…?
If you are planning on using your RV Trailer for an RV camping once a year, it is better to hunt any available RV Trailers to rent. If you purchase an RV Trailer only for once a year-trip, it can burden you for the cost of its maintenance. Also, you should consider the RV Trailer you need most. For example, if you love bringing your family for RV Trailer camping, you should consider the total beds, the pets, and space.
Consider Your Vehicle
Additionally, you need to consider something to pull your RV Trailer. If you have a truck or other vehicle that can pull the unit up and down highways, you should check the weight limit. Make sure that your vehicle is able to pull it. You don't want to end up with your new RV Trailer that is too heavy for your current truck to handle.
How Much Money You Would Like To Spend?
It is also important to think about your budget. You can purchase a used RV Trailer by spending several thousand dollars. On the other hands, a luxury RV Trailer can let your pocket drain for spending up to $100,000. It depends on how much money you are willing to spend.
Summer or Winter RV Camping
The next RV tips and tricks to know is about the time you tend to do as your tips and tricks for RV Trailer camping. For example, if you spend more time for during winter, it means the colder climates make you need a four season's camper to buy. This is good for its better insulation, and other features to keep pipes freezing.
However, if you tend to go for RV camping during summer with the warmer climates, make sure you buy an RV and as your RV living tips and tricks, buy it with some features like air conditioning, tinted windows and other better insulation details.
The Size of RV Trailer You Need
It is more than just talking about your personal space. It is also about where you are going to park this RV Trailer. If you always love RV camping in backwoods or small campground, it means you should not buy the biggest RV on the market. If you want campgrounds with campsites and TV hookups, means larger RV is what you need.
This Complete Beginner guide to RV Travel Trailers will make RV trailer traveling more enjoyable:
1. Pay attention to the Caution Labels on the Exterior of the Camper
You'll see plenty of warning labels on your RV when you buy it. These labels are not for show. These are not just for show. These documents will provide valuable information.
No one expects RVers to be able to do everything. These warning labels and notices on the RV's exterior will help you avoid making mistakes or connecting things incorrectly.
Camping World provides a complete walk-through for all RVs purchased. You can film the entire tutorial on your smartphone for later reference.
2. Cleaning your RV Trailer before you set out on the road
Do not just leave your RV without clearing out the mess and putting away anything that might fall or break. Mary explains in the video that she has had valuables fall while on the road. It will be easier to keep them safe.
It's always a smart idea to buy dishes or other items that are more durable or can be used repeatedly. Camping World offers many cookware options for you to choose.
3. Take a look at many different options before you buy
Do not buy the first RV that you see. There are many floorplans and designs available. You need to do your research and look closely at all options. 
Think about who will live in your RV, and how they would be able to get around during a day of activities. What will be your favorite place to hang out? What will you do with your cooking?
It is important to choose the right RV. Is it a trailer or a motorhome? Toy haulers are available in both trailer and motorhome versions. You should be able go to your Camping World dealer to have a representative assist you in finding the right RV for you.
4. Outdoor mats and chairs
Your RV's living area is very nice. However, you will be spending a lot of time outside. You can expand your living space by purchasing an outdoor mat or some camp chairs.
You can use this space to cook outdoors, have small tables and campfires. You should have a place that is comfortable right outside your front door.
5. Strategically store your items
The RV manufacturers make the units with lots of storage. To ensure that you have all the items you need, RV manufacturers maximize every inch of storage.
Although designers are good at giving you storage space, it is important to make the most of that space. You don't have to stuff everything into your RV. 
You need to think about what you have in your RV, and then you can get organizers for the space that you have.
6. Make sure to use your Wheel Chocks and Jacks
Once you've parked your RV and are ready for camping, the jacks on your RV will keep it stable. Your RV will not rock around without the jacks.
If your RV isn't parked and ready to go, you will notice that it will be a lot more mobile than you would expect, especially in strong winds.
You should also remember wheel chocks. Wheel chocks keep your camper exactly where you want it to be. Zach said that you don't want your truck to be pulled away from the camper and then watch it roll away.
7. Keep a generator and extra propane on hand
An RV is unique because it can be powered from anywhere. You must ensure that you have the ability to store fuel and generate power. Generators and extra propane tanks are great options.
It is simple to get an extra propane tank. It is easy to purchase one and attach it to your rig in case you need more propane. 
A generator is a great tool to save your bacon while you're out boondocking. Generators are a great way of getting the electricity you need.
8. Consider installing a backup camera
No matter what you may think, it is not a joke to back in a fifth-wheel or long travel trailer. Motorhomes are no different. It can be difficult to back up a long motorhome.
Backup cameras make life much easier. You don't have to ruin your trip when you can easily park your trailer. Many motorhomes and trailers come with a backup camera, but if you don't have one, consider installing one. You can purchase many aftermarket backup cameras to add to your RV.
9. Keep pet food in a storage container
A designated container to store pet food is a must. It is important to keep your pet's food safe from wildlife.
It's also easier to pack your pet's food quickly if you have a place to store it. It will also keep your pet's food fresher and not go stale while on the move. It's a good idea to have a designated place for your pet to eat and drink. 
10. Use the Outdoor Hose to wash your pet
Pet owners should also bring soap to help their pets clean outdoors. Many RVs come with an outdoor hose. This is the best way for your pet to get a bath. It will keep your RV clean and your plumbing healthy by keeping your dog out the bath tub or shower.
Your RV's tub or shower drain can be quickly blocked by dog hair. You should try to get as much dog hair out of your RV as you can before it gets down the drain.
11. Bring a leash to walk your dog
A leash is a must for your dog. A leash is required for your dog in almost all campgrounds. Even if your dog doesn't require a leash at all, it is a must to have at least one in your camper.
Camping World has many leashes. There are many styles and colors of leashes that you can choose. You don't have to choose what leash you want, as long as the leash is with you.
12. Do not be intimidated by the "Simple" Life.
Mary and Zach both said it was easy to become overwhelmed by all the things you need or all the things that you will need, but the RV lifestyle isn't so scary once you get out there and get started.
Zach's advice? Do not be afraid of RV Life or all the gear that you will need. It is worth the effort. Zach says, "It's for everyone."
13. Before you leave, practice towing your travel trailer.
Although it is not difficult to tow a trailer, it can take some time to master the skills. You don't have to go camping the first or second time you've tow your RV . To really feel how the RV tows, you don't have to practice every day.
You can challenge yourself to see how well you can park your vehicle, make tight turns, and otherwise drive safely without stressing other drivers, passengers, or yourself. You might consider practicing a skill you don't know well, such as backing up.
14. Create the Ultimate Travel Trailer Packing and Camping List
It is easy to carry too many gear and supplies. You may find it easy to pack too much gear and supplies when you first start out. This is fine as long as your trailer and tow vehicle are within your weight limits. However, you will often find that the more you have, the less you need to worry about.
Camping should be enjoyable, so make sure you have as little worry as possible. This means that I don't have as much gear or supplies to worry about.
To do this, I would start by creating a list with everything you may need. Next, take a second look at your destination, the weather, and the people you will be traveling with. 
You should eliminate unnecessary items. A friend of mine suggested that you eliminate half your original list. You don't have to do that, but you might consider reducing your list.
15. Research the Campground and Plan Ahead
When traveling in a travel trailer, it is essential to research the destination. First, you need to make sure that the destination is one you want to visit. 
Next, ensure that your RV is allowed to stay in the area. This means that you need to find a place that will allow your RV to be parked.
There are many campgrounds that limit the length of RVs. Many campgrounds have limited spaces. This means that you need to make reservations as soon as possible and also have another place to stay in case your first choice doesn't work out.
16. Get to know and understand your travel trailer's equipment
This is the most important thing to do for any new owner of a travel trailer. This is the most important thing for new RV owners. 
Your RV can have many appliances and electronic devices that are not available in your home. These aren't major changes but it's not something you want to do while you're camping.
You can spend some time testing all the appliances and electronics in your RV. Before you go camping, test the RV's sewage system. These things will make camping more enjoyable and more fun if you take the time to learn them before you go.
17. You should think ahead about how to store your travel trailer
As I write this, it's spring. I'm sure you think I shouldn't be talking about storage. Winter will return again, here's the truth. It may seem far away, but it is important to plan ahead for where and how your RV will be stored. 
You could end up with an expensive option if you wait for the weather to turn.
You won't be using your RV every day unless you are full-time. You will need somewhere to store your RV during camping season. 
While some people park their RV in their backyard or driveway, that is not always the best option. You should find a spot to park your RV, one that is not in direct sunlight and doesn't face the elements. Although I don't recommend that you park your RV in a garage, try to minimize the impact nature may have on it.
The coronavirus pandemic has seen RV travel become a popular option for families looking to escape the rigors of daily life while still maintaining their social distance. 
You can travel the country in a motorhome or travel trailer without needing to use public accommodations, restaurants, or restrooms.
"We are seeing increased interest in this lifestyle both virtually through online resources, and resuming interests in states where dealerships can be found when compared with when the pandemic started," Sam Jefson, a spokesperson for Winnebago Industries (maker of Winnebago Grand Design motorhomes, and travel trailers), says.
The cheapest way to live the RV lifestyle is via a trailer. Because owners rarely need more than a family SUV or truck to transport them, trailers are the most affordable way to get into the recreational vehicle (RV) lifestyle. 
These are much easier to start than a motorhome and come in many sizes and prices.
The trailer can be easily removed so the truck or SUV that hauls it can be used all year, rather than being used as a vacation coach like an all-in one RV. 
The trailer can be towable by a vehicle that has modern safety features, such as blind spot warning, automatic emergency brake, forward collision warning, blind spot warning, and strong crash protection. 
Tow vehicles allow you to safely transport your children and their car seat, something that is often not possible in motorhomes.
You can also use a trailer to travel around the campground. The trailer can be untowed and left behind so you can use the tow vehicle for exploring. You don't need to put everything in the camper or disconnect the water and power lines every time you leave the park. 
A tow vehicle is much easier to maneuver when sightseeing, particularly when you need to park, navigate downtown streets, or get food at drive-thru restaurants.
There is a compromise to allow for this flexibility. 
Towing an RV trailer requires that drivers have new skills, which are quite different from driving a car. It takes a lot of space to park both a trailer and a long vehicle. 
It takes practice and patience to learn how to reverse the trailer. It is also important to know how to attach and unattach the trailer safely. You will need a vehicle capable of safely towing your trailer.
This is a very important aspect to consider. It's easy to purchase more trailer than your vehicle can handle.
Below are some options for recreational trailers.
Here are some safe practices for traveling with a RV Trailer
Although traveling with a RV Trailer RV living is socially distancing, there are still times when you will be with other people.
Jefson states that boating and RVing are both great ways for families to enjoy the outdoors and have fun. Jefson says that campers must follow the guidelines of federal and state governments and Centers for Disease Control and Prevention when using an RV.
There are certain logistics involved in traveling with an RV. These include park reservations, scheduled maintenance, route planning, stocking up on provisions, and making sure that there is no unexpected downtime. You may need to be more organized and self-sufficient during a pandemic.
Darryl Saunders is a 27-foot Airstream Globetrotter traveler. He shared with Consumer Reports several tips from his recent road trips.
Plan your stops. You need to plan your stops in advance for any park closures, restrictions or crowding.
Double-check all reservations to ensure they are valid.
Make sure that the attraction you are interested in visiting is open when you travel to a destination. Saunders said that the place he wanted (Sequoia National Park), was closed.
Food planning is important. Although many businesses are now open, there are still restrictions. Remember that large trailers are not allowed in a drive-thru.
Many RV park owners recommend that you check with them about the amenities. Some, such as restrooms, laundry facilities and convenience stores, might be closed. 
Ask about the rules surrounding social distancing. This can impact pool usage, campfires, and playgrounds.
These restrictions vary from one region to the next and will change over time. You may need to self-quarantine if you travel in certain states. 
You should check the restrictions in your state and any countries you are planning to visit as they may have an impact on your plans.
Different Types Of RV Travel Trailers
1. Portable or folding trailers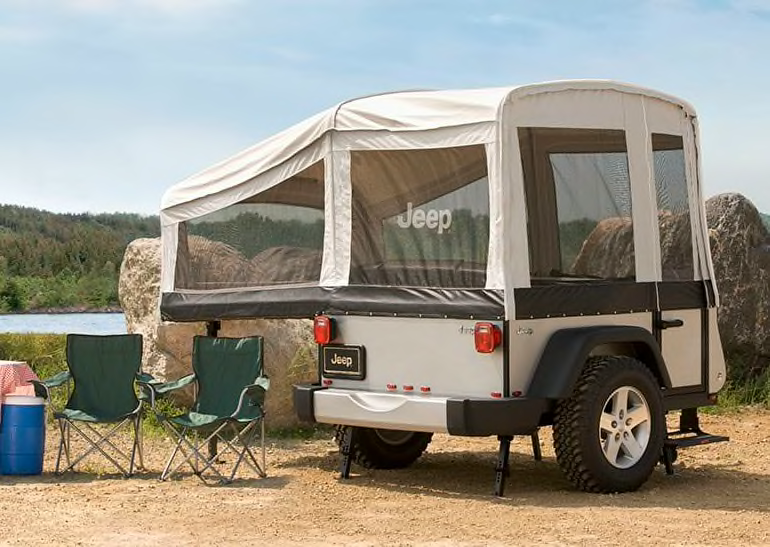 PHOTO: JEEP
Pop-up trailers are only 4 feet tall when towable. They can be raised manually or electrically at a campsite by cranking a hand crank. Many have tent-like sides with extensions that can pull out from either side. Aliner and TrailManor have harder sides which provide insulation and more durability.
Length 8 to 20 feet
Weight: 1000 to 4,000 Pounds
Sleeps Two to eight persons
Price: $00,00 to $30,000
Pros:
The cheapest type of trailer.
They can be very light and can be towable by many cars.
Aerodynamics are low, which helps to improve fuel economy.
For a trailer that is relatively small, pull-out extensions can be used to create large sleeping areas.
You can assemble some hard-sided models very quickly.
Cons:
These trailers often lack the luxury of larger trailers like a private bathroom (or any other type of bathroom).
It is not well insulated from cold or noise.
Tent-sided models require more maintenance and fabric replacement is required.
Because bears can be dangerous, some campgrounds prohibit tent-sided models.
2. Travel Trailers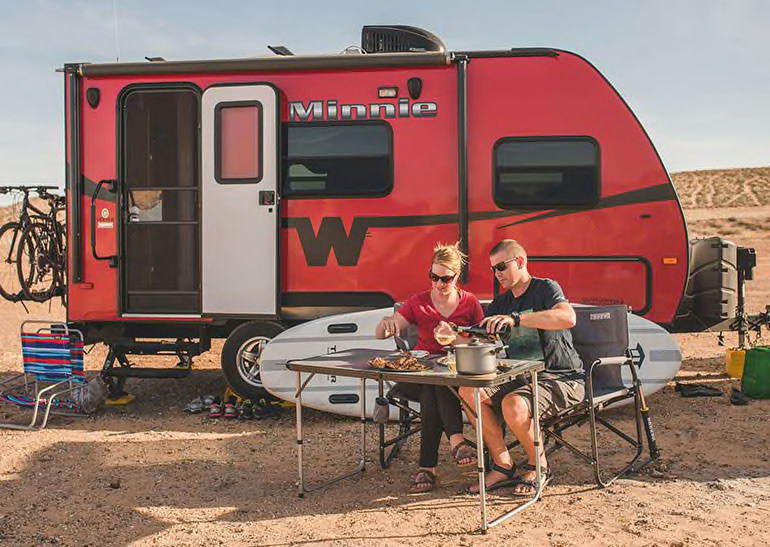 PHOTO: WINNEBAGO
The most popular and versatile type of RV towable is the travel trailer. These trailers have solid walls and may include a slide–a section that pulls out or motors to give more space when camping.
There are many options for travel trailers.
Tiny teardrop trailers with retro styling that look like a tent and a bed on wheels.
For their low-maintenance design, small molded fiberglass trailers such as the Casita or Scamp have attracted a passionate following.
Jayco, Gulf Stream and Forest River offer mid-priced trailers that provide a lot of space for their money.
Airstream's iconic aluminum body is distinctive. These are aerodynamic and low to ground. They are also easy to tow, but they are quite expensive.
A smaller trailer will typically have one axle, while larger trailers may have two or three. Axles increase towing stability, allow you to safely move the trailer in case of a flat tire, and can also reduce tire replacement costs.
A mid-sized SUV can pull many small trailers. Towing vehicles must be able to tow trailers that are larger and heavier. Pay attention to the following weights: tongue and total trailer.
The tongue extends out from the trailer and exerts direct downward pressure on its hitch. It is essentially a payload. 
Also, the trailer's weight is what the vehicle must pull. Some vehicles look great until you consider the additional weight of passengers, cargo, and water in the tanks.
Transmission coolers can be fitted to many SUVs and trucks in order to reduce the load of a trailer on the truck's drivetrain. For a small travel trailer, you might consider adding anti-sway bars and a load-leveling system.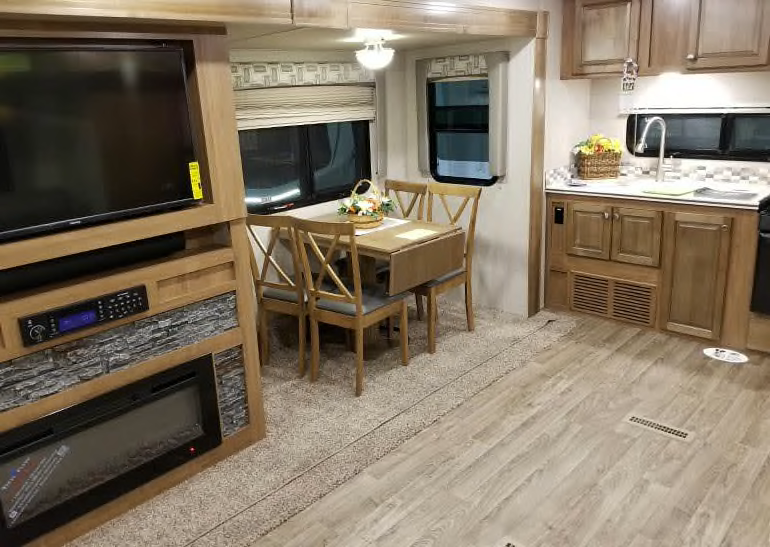 PHOTO: CONSUMER RPORTS
Length 8 to 40 feet
Weight: 1000 to 10,000 Pounds
Sleeps Two to eight persons
Price:$10,000 – $150,000
Pros:
Rigid walls offer more insulation than a tent or pop-up trailer.
It takes very little time to set up.
There are many lengths and weights available.
Cons:
You will need a suitable tow vehicle, which might be bigger and more powerful than you realize.
Towing requires that drivers learn and practice different driving skills.
Smaller trailers will not fit in small campsites.
3. Hybrid or Expandable Trailers
Expandable or hybrid RV trailers offer more sleeping space than larger trailers. The combination of the rigid body of a traditional travel trailer and the pullout extensions found on a folding trailer allows them to achieve this. This design allows you to use a smaller vehicle, but still provides enough space for your family.
Length 8 to 26 Feet
Weight: between 2,500 and 5,500 pounds
Sleeps Four to eight persons
Price: $20,000 to $40,000
Pros
Additional sleeping space is possible without sacrificing length or weight.
Cons:
It takes more time to set up than a standard travel trailer.
Tent-sided material should be maintained and may eventually need to be replaced.
It doesn't block sound as well in noisy campgrounds than fully-hard-sided trailers.
4. Fifth-Wheel Trailers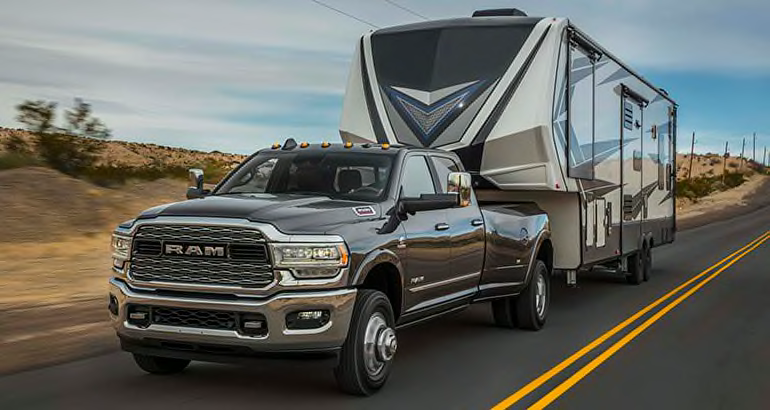 PHOTO: RAM
Fifth-wheel trailers can be towable by pickup trucks. This trailer's front extends above a pickup truck bed with a hitch underneath. The trailer can be inserted into the pickup truck bed.
Fifth-wheel trailers can be large and heavy. To transport a heavy load, you will need a truck at least half the weight of a truck built by the factory. A few manufacturers produce smaller fifth-wheels which can be towable by smaller trucks such as Escape fiberglass caravans. 
To tow a fifth wheel, it is common to use a heavy-duty truck. A pickup truck with dual rear tires (sometimes called a "dually") is a good choice if you are looking for a trailer or tow vehicle. It can pull larger trailers and has better stability. You should carefully consider the capabilities of the truck you are considering buying or the truck you already own. Truck cargo and towing capacity can vary depending on the engine, cab configuration and transmission gearing.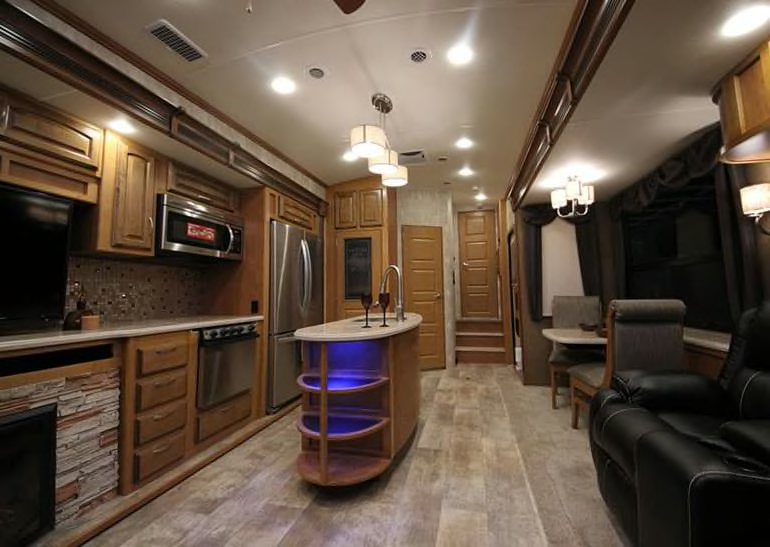 PHOTO: WINNEBAGO
Length20-40 feet
Weight Typically, 7000 pounds or more, excluding small models
Sleeps Four to eight persons
Prices:$20,000 – $150,000
Pros:
Allow them to have more space for their towing length.
Towing fifth-wheel hitches is usually very easy because they are extremely stable.
A typical bedroom is located in the front.
Cons:
Sometimes, a heavy-duty truck is required.
Some bridges may not be suitable for tall people.
Towing will limit the truck bed's usage.
There are not many small fifth-wheel trailers; the "lightweight" ones usually weigh less than 7,000 pounds.
5. Toy Haulers or 'Sport-Utility Trailers'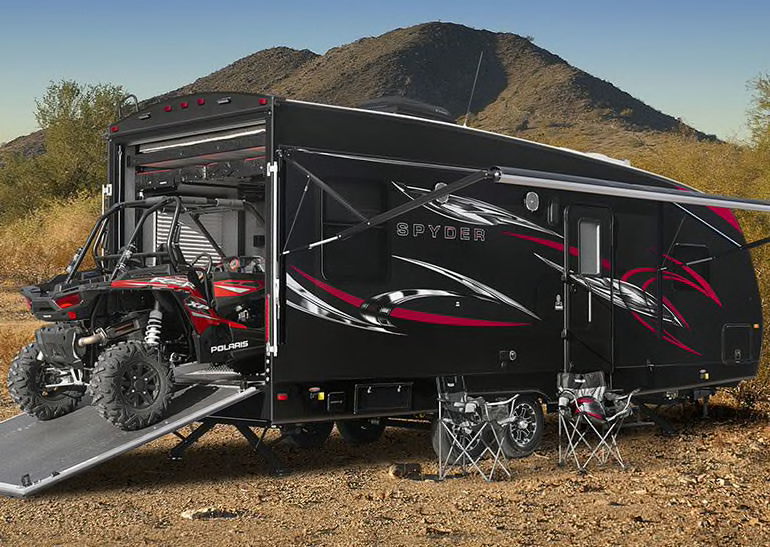 PHOTO: WINNEBAGO
Any type of travel trailer can accommodate toy haulers and "sport-utility caravans". The enclosed garage at the back is usually used for ATVs and motorcycles. The trailer has a ramp that allows you to drive your toys. Once the toy has been unloaded, the ramp can be used as a porch.
Length 18 to 40 feet
Weight: 3000 to 10,000 Pounds
Sleeps Four to eight persons
Price: $100,00 to $150,000
Pros:
There is plenty of storage space.
Garage space is available to store or dry items.
Garages can be used as additional sleeping space, or as a place to hang out.
Unique porch functionality.
Cons:
Reduces living space
It can cause trailer handling and balance problems if you place heavy ATVs or motorbikes behind your trailer.
6. Truck Campers
Truck campers can slide into the bed of a pickup truck without any towing. To increase living space, they often extend above the truck's top cab. For lightweight models, "expedition-style" models often have tent-like fabric sides that open up to increase headroom.
Truck-camper owners need to have enough payload capacity. Although some pop-top models can fit in smaller trucks, the average hard-sided truck camper is too large to be transported on a half-ton truck unless it is properly optioned. Heavy-duty trucks are the most popular choice for owners.
Length 6-12 feet
Weight: 1000 to 3,000 Pounds
Sleeps Two to Four
Price: $15,000 – $50,000
Pros
It is compact and easy to use; it is not larger than the truck.
This allows for off-roading adventures.
Some models are compatible with mid-sized trucks such as the Toyota Tacoma.
Cons:
There is not much living space.
It is not easy to climb up.
Heavy-duty trucks are required for campers with hard sides.
It can be difficult to remove the truck from its place.
They are often too expensive for their size.
Can My Car Haul that Trailer? How to Choose the Right Trailer for your Vehicle
It can be difficult to decide which RV or trailer is right for you. With a few other factors, the decision boils down to weight.
Let's start by describing the most popular trailer brands that can be towable by your vehicle. These brands are popular with towers and RVers, so make sure you look for them when searching. These brands offer models that can be towable with a car or truck, minivan, hatchback, or other vehicle.
Dutchmen
Keystone
Forest River
Crossroads
Coachmen
Can I tow an RV or trailer with my car?
Yes, but only if combined weight of RV/Trailer and towing vehicle GVWR (Gross Vehicle Weight Rating) is less than your vehicle's maximum towing capacity. It is a good idea to keep your maximum towing capacity under 80%.
Where can I find my Vehicles Towing Capacity
You can start your search for the right trailer to fit your vehicle in the glovebox, where you will find most owner's manuals. The manual will have the "Vehicle towing Capacity" information. This is the manufacturer's weight limit for the vehicle. A trailer with a towing capacity greater than your vehicle's can handle will cause damage to the engine, transmission and brakes.
As you read the owner's manual for your vehicle, be sure to note the Gross Vehicle Weight (GVW). The actual weight of your vehicle or truck is called the GVW. Next, look for the Gross Vehicle Weight Rating (GVWR). The vehicle's maximum weight and safe load is called the GVWR.
The owner's manual will state that lighter, smaller cars cannot tow. 
WHERE CAN THE WEIGHT OF A RV/TRAILER BE FOUND?
You can now narrow your search to find a trailer that you can tow behind your car. Look first for the Gross Trailer Weight (GTW). The GTW refers to the total weight of your trailer when fully loaded, which includes all of your gear and food. Look out for the Gross Vehicle Weight Rating on larger RVs. This is the maximum that the camper and its load can carry.
While trailer shopping, you may also be presented with a Base Curb Weight (BCW). The trailer's weight as delivered with all factory equipment and any lubricants is known as the BCW. Dealers may also list an RV's Dry Weight, which is the unloaded, non-fully equipped weight. These numbers are useful, but they should not be considered in your buying decision. You will never tow an RV or trailer that is empty.
Unless the trailer is custom-built, it will come with a Vehicle Identification Number (VIN) plate. This plate will contain the trailer's serial numbers as well as its loaded and unloaded weights. The RV's GVWR will be listed on its specification sheet.
TONGUE WEIGHT
Tongue Weight (TW), or the downward pressure your tongue exerts on the hitch ball of your vehicle when it is fully loaded, refers to the weight of the trailer. The trailer should have a TW of approximately 10 percent. Your vehicle's Gross Vehicle Weight will be affected by the Tongue Weight.
ADDING IT UP
Add the vehicle's GVW (including the tongue weight) to the vehicle's weight. Then add the trailer's GVWR or the truck's GTW to get the total. Make sure that the final result is not greater than your vehicle's Gross Combine Weight Rating. This is the maximum weight your truck or car can carry for safe operation.
Deferent Cars and SUVs that can tow a RV trailer
A compact or subcompact car is best to be towed behind an RV, rather than being the tow-car. However, a few are capable of towing up to 2,000 pounds when equipped with the right towing package. To save the car's wear and tear, a trailer equipped with an electrical brake system is best. You might also consider micro-campers or lightweight teardrops.
A mid-sized car, some family minivans, or smaller SUVs, may tow up to 3,500lbs, or a small, lightweight tent, boat, or trailer with a utility trailer.
Here are some of the most popular cars and trucks that you can tow.
Ford F-150
Chevrolet Silverado 3500HD
Ram 3500 Heavy Duty Pickup
Nissan Titan
Jeep Renegade
Hyundai Santa Fe
Chrysler Pacifica
GMC Terrain
Honda CR-V
Some SUVs are smaller than others and can tow small boats, trailers or family campers. Towing capacity will be greater for 4-wheel-drive vehicles than for comparable 2-wheel-drive vehicles.
When choosing the right towing vehicle, it is important to consider horsepower. You also need to have enough torque to move the load. Horsepower is what keeps the load moving, and how fast it can be moved.
To tow larger trailers, fifth wheels and toy haulers, you will need a truck with towing capability that can tow.
Add It all up
Before you shop for a trailer or an RV, it is crucial to calculate the cost of your purchase. Towing more than your vehicle can carry could lead to costly and dangerous problems such as brake failure, blown tires, or a broken suspension.
Read More About : What are the Different RV camper Classes?
Conclusion
You should take your time when making your purchase of a recreational trailer or RV. The old saying is "Buy your third trailer first". Many people who are passionate about this hobby will go through several RVs before finding the right one. Also, take your time and research.
Renting an RV can help you save money and time. This will allow you to determine the best floor plan and features for your camping style and your family.
Complete Beginner guide to RV Travel Trailers